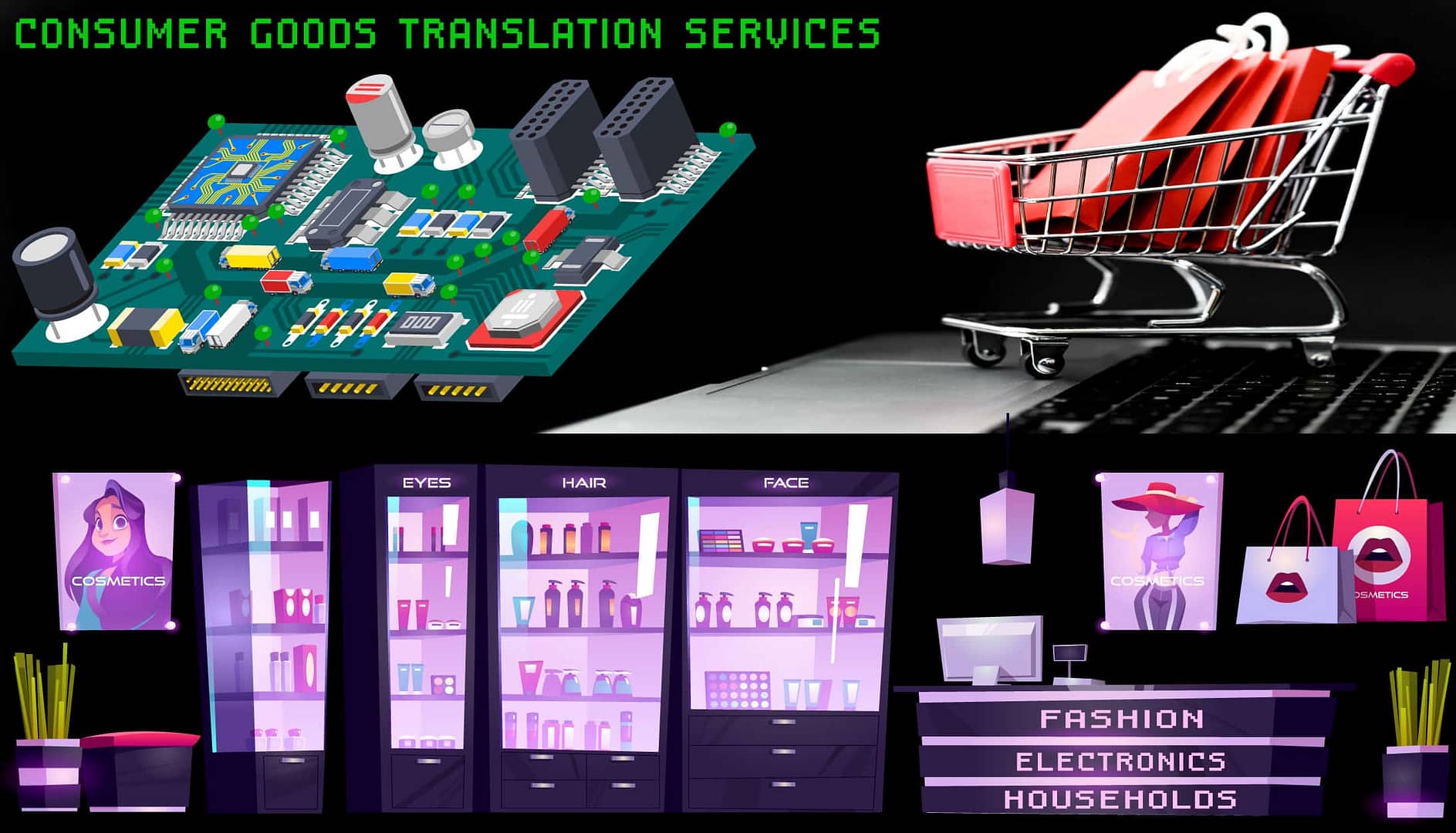 Localized Electronics & Consumer Goods Translation Service in Nairobi Kenya, Africa.
A professional consumer goods translation service ensures that vitals and nuances are not misinterpreted or lost in the translation, from source to target languages.
For instance, consumers want to purchase goods which have accompanying details written in languages they can understand. 
Ensuring that your products are readily understood in the languages of your target market will help mitigate risk, keep operations running smoothly and increase your sales. 
Electronics and cosmetics are good examples of shopping items whose consumers typically spends more time conducting research on and chatting with sales persons about.
Whether these items are one-off or regular purchases, their consumers prefer to compare their suitability, quality, prices and features before selection and purchase.
Even if you are a small producer or manufacturer catering to a niche market that exists overseas, you need fluent communication with the common people – the consumers who purchase your products.
With that in mind, manufacturers of such consumer goods should partner with reliable translators who are not only able to translate, but also localize the products for target consumers in various locales.
At Isakasnel Consultants, we manage a strong team of native translators who translate product information from foreign languages into African dialects and vice-versa.
We localize your products for customers in your target markets, especially in Africa.
Why choose us as your trusted electronics & consumer goods translations partner?
Very quick translation turnarounds.

100% guaranteed human translations.

Accurate translations by subject-matter linguists.

Cost-effective translation and localization services.

In-country based translators who are native speakers of the languages they translate and localize.

We support translations and localizations into all African dialects and international languages as well.
We translate for various categories of consumer goods including:
Televisions and HD Monitors.
Audio equipment.
Digital Cameras.
Wearable Technologies.
5G Smart appliances and Smart Home devices.
AI-powered Home Assistants.
Gaming Consoles.
Cellular and Mobile Devices.
Personal Computers and Tablets.
Electronics accessories.
Foodstuffs.
Clothing and Fashion products.
Toys and Entertainment equipment.
Personal care products.
Household items.
Office equipment and tools.
Examples of product information materials we translate include:
End user license agreements & terms of service.
Packaging information.
Training & e-learning materials.
Online help content.
User manuals and assembly guides.
Advertising and promo campaigns content.
GUI for web, apps and software.
Environmental compliance content.
Product labels and specifications.
Product catalogues, brochures, pamphlets.
E-commerce websites and mobile apps.
Online and Print marketing content.
Product FAQs.
User reviews.
Commercial agreements.
Global Supply Chain Correspondence.
Demo videos.
Human resource materials.
After-sale materials.
Product care instructions.
In-store displays and signage.
Graphic design adaptation.
Our Consumer Goods Translation Quality Commitment
We are consistently dedicated at offering high level of quality in all our customer engagements as well as service delivery.
Our Consumer Goods Translators follow a well-established Human Translation Process. As a result, we are always able to communicate clearly, deliver on time and exceed our customers' expectations.
Related Services you may also like from us: