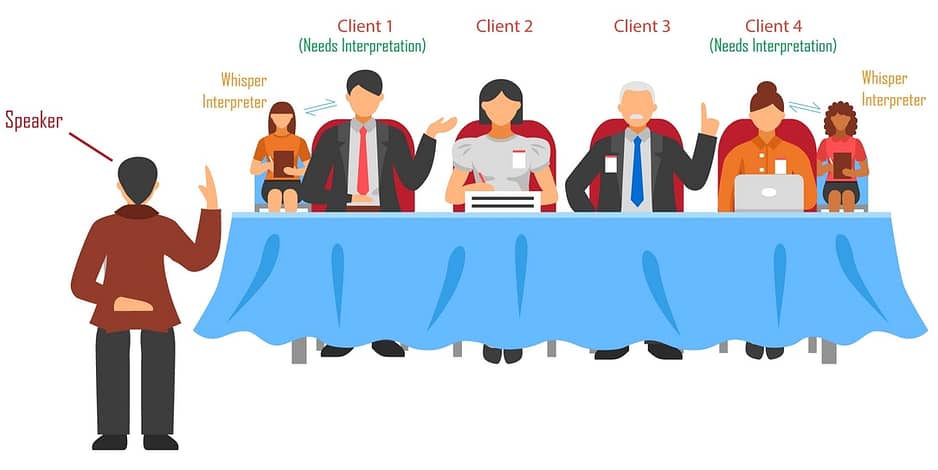 Professional Whispered (chuchotage) Interpretation Services in Nairobi, Kenya.
Whispered interpretation services are ideal for small meetings of small durations. For instance, where one or two of the clients (participants) doesn't speak the source language.
In the same vein, whispered interpretations also apply for large meeting setups with many participants.
Where a majority of the participants speak the source language, only the minority needs interpretation.
Therefore, an in-person-interpreter (IPI) seats next or behind them to whisper to them the interpretation of what's being said.
How we execute whispered interpretations:
Our whisper interpreter has to interpret to the client in low tone to avoid disturbing other participants who don't need any interpretation.
The whispering happens simultaneously, meaning that the interpreter interprets as the speaker speaks and only pauses when the speaker pauses.
This makes whispered interpretations real-time.
Whispered interpretation can be exhausting if the meeting session becomes too long.
We deploy a substitute interpreter after a certain duration. This helps avoid fatigue that may compromise the accuracy and general effectiveness of the interpretation.
Whisper (chuchotage) Interpretation doesn't need any tools and equipment.
Isakasnel Consultants is the leading provider of Whisper Interpretations in Nairobi, Kenya and Africa at large.
We offer a variety of other interpretations and help you assess your assignment to determine the most appropriate interpretation method.
Our native bilingual interpreters are experienced and certified to offer professional whisper interpretations all over the world.
Obligation-free QUOTATION